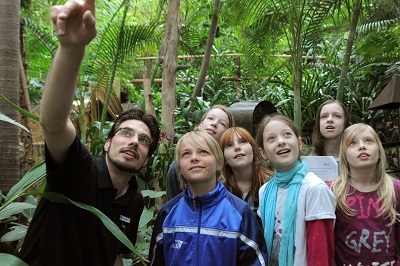 The Biosphäre Potsdam is the ideal place to learn about the rain forest. We offer a varied selection of programs for schools. As of right now, our school programs are available in German only. It is possible to bring your own translator. We apologize for any inconvenience caused.
Prices for school classes
We offer school classes or day-care groups discounted prices for day passes:

5,50 € (per person from 31 students)
6,00 € (per person up to 30 students)
For a group of up to 10 students, one accompanying person is free to supervise; up to 20 students two accompanying persons are free; up to 30 pupils, three accompanying persons, etc.

For your visit there is a cloak room for jackets and bags available.

We are happy to assist you in your planning.
If you're interested in the school programs, please check the German website or call us 0049 331 550 74 0.