For a visit to the Potsdam Biosphere a proof of vaccination or recovery is required for all persons over the age of 18. Please show this proof when entering the hall. Thanks very much. From January 17th, 2022, the 2G Plus rule will apply to visits to our gastronomic facilities. If you have any questions, please do not hesitate to contact us at info@noSpambiosphaere-potsdam.de or 0331 - 550 74-0.
Note:
Currently, we cannot offer school programs and guided tours. As soon as these are possible again, we publish the information on the homepage and our social media channels Facebook and Instagram. Feel free to follow us and stay up to date.
You are welcome to visit the Biosphere Potsdam within the framework of the current hygiene regulations without a booked program.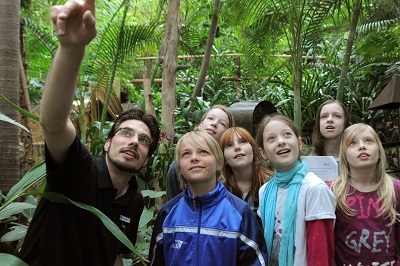 The Biosphäre Potsdam is the ideal place to learn about the rain forest. We offer a varied selection of programs for schools. As of right now, our school programs are available in German only. It is possible to bring your own translator. We apologize for any inconvenience caused.
Prices for school classes
We offer school classes or day-care groups discounted prices for day passes:

5,50 € (per person from 31 students)
6,00 € (per person up to 30 students)
For a group of up to 10 students, one accompanying person is free to supervise; up to 20 students two accompanying persons are free; up to 30 pupils, three accompanying persons, etc.

For your visit there is a cloak room for jackets and bags available.

We are happy to assist you in your planning.
If you're interested in the school programs, please check the German website or call us 0049 331 550 74 0.