summer for 365 days a year
In the center of Potsdam is a place with a holiday-atmosphere 365 days a year – the Biosphere Potsdam. The jungle landscape of the Biosphere with over 20.000 beautiful plants, many exotic animals and an hourly thunderstorm with thunder and lightning takes you to a world far away. Your journey begins at the waterfall and continues on intertwined paths to the butterfly house and to the high-trail up in the treetops.
Take a look at our various tropical offers!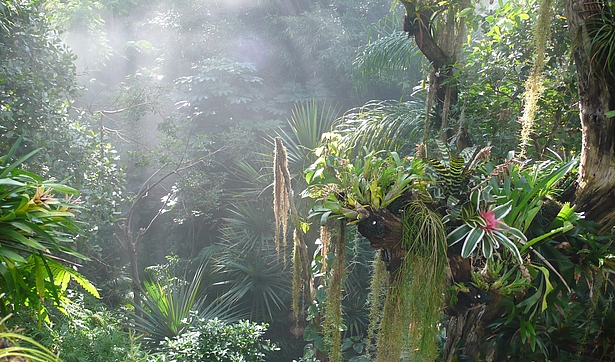 Biosphere Potsdam – the mystical tropical world just outside Berlin's gates: Go on a fascinating journey through the beautiful world of the jungle.
You will discover colorful orchids, climbing plants and bines, but also cocoa and coffee plants. Free flying birds, terrariums with insects and reptiles, bird aviaries, and an underwater world akin to a historical submarine with colorful fish represent the animal world of the Biosphere.